One-nil up, 94th minute.
Suddenly Conor Sammon is put clean through on the right side of the box. He's only got Joe Hart to beat.
I actually hear myself hyperventilating. Hands on head. Heart pumping. This is it - he's going to bury it.
He hits it right-footed. It's arrowing along the turf towards the bottom corner. That's that.
But it isn't.
The ball actually goes wide. Sammon's missed it. And City have limped over the finishing line against bottom club Wigan thanks to David Silva and a goalkeeping howler.
We've won a game we would have traditionally drawn.
It shouldn't matter this much, of course, but it does. And it seems to matter more than ever.
Thirty-five years and we're still here
Thirty five years ago I listened on the radio as City won their last decent trophy. It was so long ago that the League Cup Final wasn't even shown live on TV. In Manchester you had to wait until the highlights on a
Kick Off!
special on Sunday afternoon.
Peter Barnes' side-footer past the Newcastle keeper and Dennis Tueart's brilliant overhead kick won it for City.
I risked the wrath of Mrs Highland's Monday morning school inquisition and bunked off Sunday Mass to watch Mike Doyle and the squad parade the trophy round the city centre at lunchtime.
It was a good squad - Gary Owen, Joe Corrigan, Joe Royle, Dave Watson - and the trophy win would surely kick-start a period of dominance.
The following season we finished second to Liverpool in Division One. But Tony Book's squad had easily secured a Uefa Cup place and the trend was still upward.
I saved up my paper round money, bought my first season ticket in the Kippax Street stand and went autograph hunting. Then it all started to go wrong.
Relegation battles, relegations and promotions became the norm. But no trophies.
There was one sniff - the 1981 FA Cup final.
Tickets seemed better value back then
We got there thanks to a Paul Power goal against Ipswich Town at Villa Park. My glasses got knocked off in the Holte End celebrations and I couldn't see a thing for the last ten minutes. Didn't care.
Glasses like these destroyed in semi-final

I got the train to the final with my punk pal Tommy.
When Tommy Hutchison scored with a flying header I was so shocked and relieved that I bent double for so long that Tommy (my mate not Hutchison) asked me if I was alright.
I was. Until Hutchison scored an own goal at the other end. We were stood behind that goal - miles away from it in the old Wembley. We thought Hoddle's free kick had gone straight in. It was only walking back to the train station with other fans that the true horror was confirmed.
But never mind, we had a replay the following Thursday. I couldn't go because of school but it was a rare treat to watch City live on TV. My dad, a policeman and a United fan, was on duty and my brother wasn't bothered so I watched it with my disinterested mum who kept saying shush.
When Kevin Reeves put us two-one up from the spot I was jumping around the lounge. When Ricky Villa got the ball and carried on dribbling I was flat out on the floor.
Every time I've seen it since I think Big Joe is going to save it. He never does.
But two cup finals in five years - surely more would follow along with top two finishes and title pushes.
Fast forward 30 years into the Sky+ era and our new status as the Richest Club in the World. Still no trophies and not really any near misses since.
Maybe the FA Cup quarter final against Spurs in 1993. I dashed over to Manchester after playing up front for the Bradford Telegraph & Argus against the Yorkshire Evening Press on the morning of the match.
Needn't have bothered. Lost 4-2, crowd trouble, police horses composting on the pitch and all over the club. The beginning of the end for the Peter Swales era.
Maybe the League Cup semi-final against United last year. A Tevez winner in the first leg. A last-minute Rooney clincher for United in the second.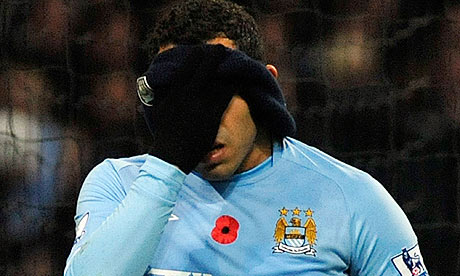 Know how you feel, Carlos
And now the start of a week that could change everything. The players look knackered after four games in ten days.
But next is a trip to Kiev on Thursday for the Europa League last 16, a home FA Cup quarter final against Reading on Sunday, the second leg against Kiev next Thursday and away to Chelsea the following Sunday where a win would consolidate third place in the Premier League.
Punk Tommy won't be here to see it. He died of a heroin overdose in a pub toilet in Manchester in 1985.
But those ten days can put City on the road to a new era.
And me and fellow Colin Bell-stander Vince could celebrate 11 years of watching us through thin and thin with a final at Wembley and another in Dublin in the same week.
I'm starting to hyperventilate again.